Please note that the locations below have all agreed to give 10% of their proceeds from the night of February 19th back to the TN Winter Beer Fest which means we can give MORE money to New Hope Blount County Children's Advocacy Center!
A big thanks goes out to these preferred lodging providers!
Talley Ho Inn
The Talley Ho is right next door to the festival site. Just give them a shout and let them know you'll be in town for the Tennessee Winter Beer Fest! The Talley Ho can be reached at 1-800-448-2465.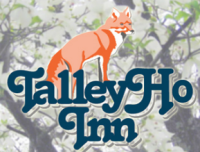 Highland Manor Inn
The Highland Manor Inn has also been a great supporter of the TWBF! Give them a shout at (865) 448-2211 or hit this link. NOTE: We will have a shuttle running between the Highland Manor Inn and The TWBF!

Townsend Gateway Inn
The Townsend Gateway Inn is right next door to the event site give them as shout at 865-238-0123 or hit this link.