Hello beer friends!
We are super excited about our pending Beer for Hope launch this Friday!!! As we shared with you about a month ago, #Beer4Hope is a way for us to celebrate 10 years of the Tennessee Winter Beer Fest (TWBF), raise some money for New Hope Blount County Children's Advocacy Center, and encourage folks to go visit the breweries who have been such awesome partners with us for many years.
Each brewery is putting on their own Beer for Hope. For some, this may be a twist on an existing beer and for others it may be an entirely new beer! Each beer is unique and different! Each brewery will be donating a portion of the proceeds to the TWBF as part of our donation to New Hope this year.
When: Beginning this Friday, November 6th until it's gone!
Where: We have 21 breweries signed up and several retail establishments that will have the beer on draft! Those breweries are: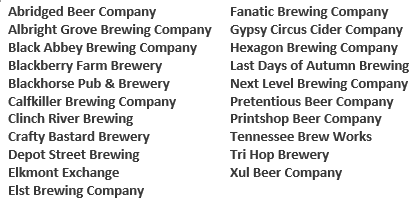 The Casual Pint Bearden, Knox Brew Hub, Merchants of Beer and Barley's will also have a Beer for Hope (or more!) on draft as well!
What: We ask that you go and visit these fine folks, ask for their Beer for Hope, and enjoy their creations on site or get it to go – and enjoy it at home! Help us spread the word as well and use the hashtag #Beer4Hope!!!
What about the fest? Right now we're still planning on hosting the event on February 20th, 2021 but as we all know, things can change. Stay tuned to this website, our Facebook and Instagram accounts and we'll keep you posted!
Will there still be a silent auction? Yes! We actually are planning on taking it online this year! This way we can host it regardless of whether or not we're able to gather for the event. If you are interested in contributing an auction item, we'd love to have it! Please shoot us an email at tnwinterbeerfest@gmail.com. We'll send out information on how to bid in the new year.
Thank you! Thank you for supporting these fine breweries, for supporting New Hope and for supporting the Tennessee Winter Beer Fest. We are truly humbled to be raising a glass to 10 years. Prost!